Action
None needed at this time.
Update
THANK YOU TRADER JOE'S! The popular grocery store chain has announced that they will stop purchasing shrimp from Mexico. Trader Joe's decision follows multiple appeals asking it to stop sourcing shrimp from Mexico until a real and permanent gillnet ban is implemented and enforced. Thank you for helping to make this happen.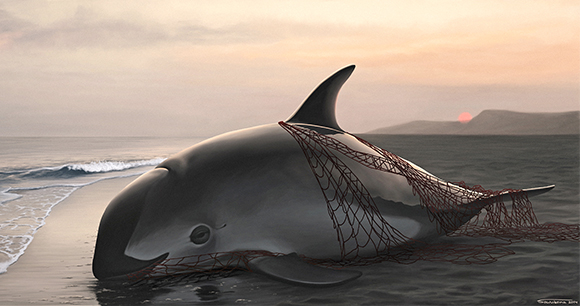 Dear Humanitarian,
Fewer than 30 vaquita porpoise are left, found only in Mexico's northern Gulf of California. For decades, this diminutive cetacean has been killed by entanglement in gillnets used to catch shrimp for sale in the United States. More recently, vaquita have died in gillnets used illegally to catch totoaba, an endangered fish whose swim bladder is in high demand in Asia. Experts have said that if the government of Mexico does not enact a permanent ban on the use of all gillnets throughout their entire habitat the vaquita will be extinct in less than three years.
On June 30, 2017, the government of Mexico announced that it was implementing a permanent ban on gillnet fishing in the Upper Gulf of California. Unfortunately, the plan exempts two fisheries from the gillnet ban and fails to ban the possession, sale, and manufacture of gillnets in the region. The situation is dire and decisive action is needed, especially as the fishing and shrimping seasons in the Upper Gulf are about to resume.
The shrimp industry played a primary role in the vaquita's decline over several decades, and large-scale shrimp buyers should do their part to demand that the Mexican government expand its efforts to save the vaquita and collaborate in such efforts.
Trader Joe's has continued to sell Mexican shrimp despite being aware of the situation facing the vaquita. The Boycott Mexican Shrimp campaign is calling on Trader Joe's and other major retailers to immediately stop importing shrimp from Mexico until a real and permanent gillnet ban is implemented and enforced.
What You Can Do:
We ask you to take the following actions to help save the vaquita:
1) Please contact Trader Joe's to ask that it support our campaign and cease buying shrimp from Mexico. You can send a letter by clicking here.
2) Sign a petition urging the US government to take emergency action under the Marine Mammal Protection Act to ban all seafood imports from Mexico that were caught in fishing gear that can kill or injure vaquita in their habitat in the Gulf of California. You can find the petition here.
Be sure to share our Dear Humanitarian eAlert with family, friends and co-workers and encourage them to take action as well. As always, thank you very much for your help!
Sincerely,
Cathy Liss
President
P.S. Follow us on Facebook and Twitter for updates on the action above and other important animal protection news.