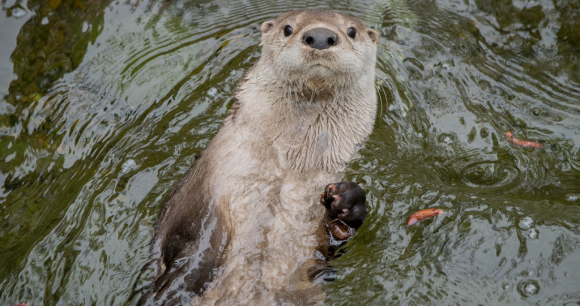 Dear Vermont Humanitarian,
In the fall, the Vermont Fish and Wildlife Board—which votes on and enacts fish and wildlife regulations for the state—held a board meeting to discuss whether to approve a trapper's petition to expand the state trapping seasons on bobcats and otters. Both animals are listed in the Wildlife Action Plan of the Vermont Fish and Wildlife Department as species of greatest conservation need.
Fortunately, after you sent your letters opposing extended trapping seasons for both species, the proposal to extend Vermont's bobcat trapping season failed to pass. However, the trapping season on otters is still being considered. The department supports an extended trapping season on otters through the end of March, despite acknowledging that the birthing season is late March–May and that it lacks data to support an extended season. In fact, according to the department's own reports, otters face new threats to their populations, including water pollution and diminished prey.
Vermont should be examining its current trapping practices to reduce cruelty and decrease the chances of catching nontarget animals rather than seeking to expand trapping opportunities.
What You Can Do:
Please send an email message to the Vermont Fish and Wildlife Department and the state's Fish and Wildlife Board telling them not to expand the trapping season for otters. Comments will be accepted through April 21.
Also, be sure to share our "Dear Humanitarian" eAlert with family, friends and coworkers, and encourage them to take action, as well. As always, thank you very much for your dedication to protecting animals!
Sincerely,
Tara Zuardo
Wildlife Attorney
P.S. Follow us on Facebook and Twitter for updates on the action above and other important animal protection news.