Action
None needed at this time.
Update
Thank you to everyone who spoke out against wildlife killing contests at the Ohio Division of Wildlife's open houses!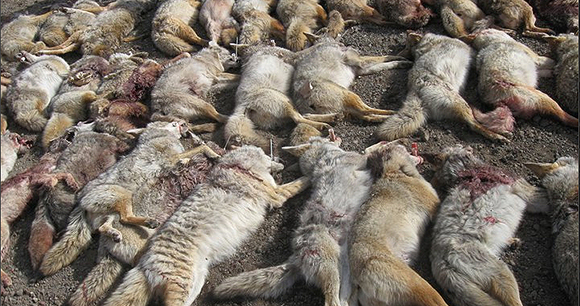 Dear Humanitarian,
Coyotes can be killed 24 hours a day and 365 days a year because the Ohio Division of Wildlife has designated an open season on hunting them. As a result, brutal coyote-killing contests are permitted, with prizes to those who kill the most animals. This attempt to manage coyotes is likely to have the opposite effect, as coyotes respond with compensatory reproduction--giving birth to increased numbers of young. We are hoping you can help reduce the senseless slaughter of coyotes in killing contests.
What You Can Do
The Ohio Division of Wildlife will be hosting open houses next month to allow Ohioans to voice their thoughts about wildlife issues and management. If possible, please attend one of these public meetings to speak out against wildlife-killing contests.
The open houses will all be on Saturday, March 2 from 12:00PM to 3:00PM.
Locations:
Central Ohio:


Wildlife District One Office




1500 Dublin Road, Columbus

Northwest Ohio:


Wildlife District Two Office




952 Lima Ave, Findlay

Northeast Ohio:


Wildlife District Three Office




912 Portage Lakes Drive, Akron

Southeast Ohio:


Wildlife District Four Office




360 E State St., Athens

Southwest Ohio:


Greene County Fish and Game Association Clubhouse




1538 Union Road, Xenia
If you can't make it to one of the open houses, please leave a comment with the Division of Wildlife by using the form at the bottom of this page (select "I have a general comment" on the drop-down menu).
Here are some talking points you can use:
Killing contests conflict with modern principles of wildlife management.

Research has shown that such contests do not decrease coyote numbers. On the contrary, they often actually increase coyote populations by destabilizing family structures, which tends to increase reproductive rates.

Studies have demonstrated that randomly killing native carnivores does not protect livestock or game species, which contest participants often cite as justification for their actions.

Wildlife-killing contests are brutal spectacles that sacrifice lives for the sake of entertainment, and many hunters have condemned them as unethical.

There is no concept of "fair chase" during these competitions.

Animals are often baited or lured toward the hunters with electronic calling devices that mimic the distress calls of wounded young.

Dependent young may be orphaned during contests and left to die from starvation, predation, or exposure.
Please share our "Dear Humanitarian" eAlert with family, friends, and co-workers in Ohio, and encourage them to attend one of the meetings or leave a comment as well. Thank you for all you do for animals!
Sincerely,
Cathy Liss
President
P.S. Follow us on Facebook, Twitter, and Instagram for other important animal protection actions and news.