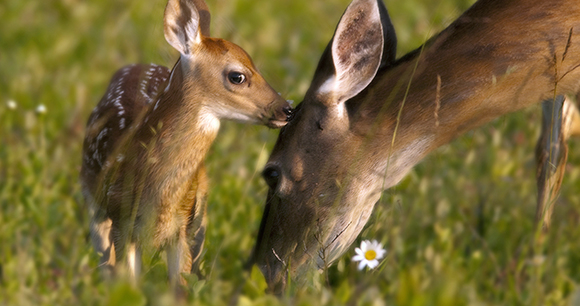 Photos by Andy
Dear Humanitarian,
A bill has been introduced in the New Jersey Senate that would increase deer killing in the state. Senate Bill 2419 would expand the "deer depredation" killing program into some forested areas while continuing to allow it in cultivated areas. Even worse, the bill may permit the use of bait not only in cultivated areas, where it is already allowed, but also in forested areas to maximize the number of deer killed. The bait used could be any kind of food, distributed in any amount, to attract deer to a particular location, where hunters would lie in wait, prepared to ambush and gun down deer who come looking for a meal.
Using bait to facilitate hunting for deer, which has been allowed in New Jersey since 1999, is widely viewed as unethical, unsporting, and unsafe. It also promotes the spread of disease and is ecologically damaging. Research has shown that baiting is linked to bovine tuberculosis in whitetail deer and that it concentrates a large number of deer in a small area, destroying native plants and suppressing forest regeneration.
Sincerely,
Cathy Liss
President
P.S. Follow us on Facebook, Twitter, and Instagram for other important animal protection actions and news.