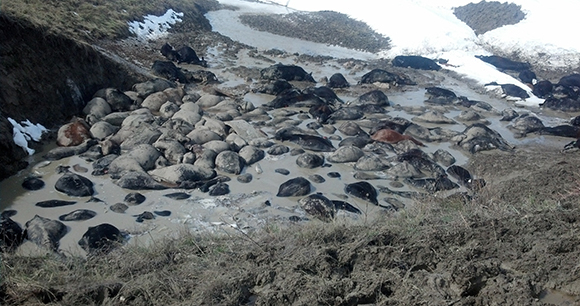 Photo from Flickr - USDA NRCS South Dakota
Dear Humanitarian,
Each winter, plunging temperatures, bone chilling winds, and massive snowstorms endanger the lives of millions of Americans. In addition to the human impact, farm animals frequently suffer and die from these extreme weather events. Instead of prioritizing animal welfare and disaster preparedness, some industrial farm operators take little or no precautions to help animals during natural disasters, treating them as nothing more than replaceable commodities.
Unfortunately, despite the inevitable nature of these weather events, farm animal deaths are common due to the lack of preparedness. In some cases, the loss of life has been extreme: In 2013, tens of thousands of cattle froze to death during a blizzard in South Dakota. In the aftermath, witnesses described trails of cattle carcasses dotting the plains. In 2018, Hurricane Michael killed more than 2 million chickens in Georgia alone.
Over the past few years, the USDA's Livestock Indemnity Program reimbursed farmers hundreds of millions of dollars for weather-related farm animal deaths, regardless of whether the farm operators had taken any steps to minimize the loss of life. In fact, some of the largest payouts have been due to animal deaths from winter storms. The Livestock Indemnity Program actually creates a disincentive for farmers to prioritize animal welfare in disasters.
Severe weather is a foreseeable occurrence, and the USDA should not reward those who abandon their animals or fail to take necessary precautions to protect them.
Sincerely,
Cathy Liss
President
P.S. Follow us on Facebook, Twitter, and Instagram for other important animal protection actions and news.