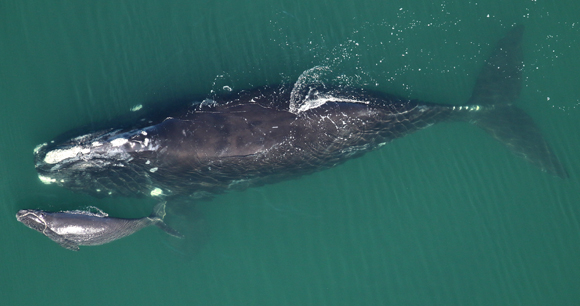 Dear Massachusetts Humanitarian,
The North Atlantic right whale is an iconic species of the East Coast--inhabiting the waters of every Atlantic coastal state. Unfortunately, it is also one of the world's most imperiled large whales. Commercial whaling nearly drove it to extinction by the early 20th century. Hunting of all right whale species was banned globally in the 1930s, and the North Atlantic right whale is currently listed as endangered under both the Massachusetts and US Endangered Species Acts.
Today, entanglement in fishing gear and vessel strikes pose the greatest threat to North Atlantic right whales. Collisions with ships cause death and serious injuries to whales, including bleeding, blunt-force trauma, propeller cuts, and broken bones. Right whales are also extremely vulnerable to entanglements in the vertical buoy lines associated with lobster and crab trap gear. Entanglement can lead to reduced mobility and in some cases a long, painful death from starvation. Collisions and entanglements together claimed the lives of at least 20 North Atlantic right whales from the beginning of 2017 to October 2018.
However, there is hope. Government agencies, organizations, and commercial fisheries are beginning to take positive steps to enhance protections for the North Atlantic right whale. As part of this effort, the Massachusetts Division of Marine Fisheries (DoMF) has proposed two measures to protect North Atlantic right whales. The DoMF is proposing (1) a reduced boat speed for vessels less than 65 feet long in south Cape Cod Bay in an effort to reduce the possibility of vessel strikes and to complement the similar federal rule for larger vessels; and (2) a process to enable the extension of the Large Whale Season Trap Gear Closure area in response to the presence of right whales in Massachusetts waters.
Sincerely,
Cathy Liss
President
P.S. Follow us on Facebook, Twitter, and Instagram for other important animal protection actions and news.
Photo credit: FWS - NOAA