Action
None needed at this time.
Update
Thank you to everyone who participated in Massachusetts Lobby Day for Circus Elephants on January 17, 2018! We will continue to lobby for the bill to ban the use of elephants in traveling animal acts, and alert Massachusetts residents if there is another opportunity for action.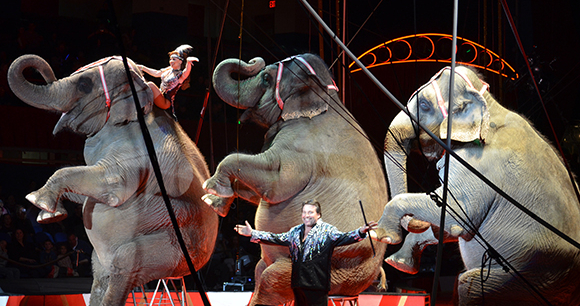 Dear Massachusetts Humanitarian,
On Wednesday, January 17, Massachusetts citizens like you who care about animal welfare have an exciting opportunity to add your voice to the legislative process by attending Lobby Day for Circus Elephants!
This lobby day is designed to support a bill moving through the Massachusetts legislature (H. 418) that would prohibit the use of elephants in traveling animal acts. It is especially important for you to show up because you live in a key legislative district for this bill.
This is vital legislation, and builds on similar laws that have been passed elsewhere around the country. Circuses and other traveling animal acts cannot meet the complex physical, psychological, and social needs of elephants. Elephants used in traveling shows suffer cruel and physically violent methods of training and control, and often suffer from chronic foot disease, lameness, and arthritis, in addition to developing neurotic repetitive behaviors.
Date: Wednesday, January 17th
Time: 10:30am-3pm
Location: Massachusetts State House, Boston
Cost: Free! Please register if you plan to attend.
Don't worry if you're new to lobbying or are unfamiliar with specific details; the event organizers will be on hand to guide everyone who attends. What's important is that you're there! Thank you for all you do for animals.
P.S. Follow us on Facebook and Twitter for updates on the action above and other important animal protection news.