Action
None needed at this time.
Update
Unfortunately, the legislature ran out of time to pass this bill before it adjourned. We will support its reintroduction next year.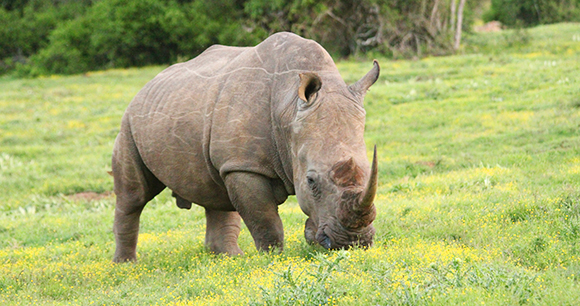 Dear Humanitarian,
The Massachusetts legislature is considering a bill (S. 2575) to restrict the sale of ivory and rhino horn in the state. It passed the Senate in June, and is now in the House Committee on Ways and Means. It must pass the House by the end of July to have a chance of becoming law this year.
The wildlife poaching crisis has exploded over the past several years, and elephant and rhino species are in grave danger. Federal import data show that Massachusetts has a significant and problematic trade in ivory and rhino horn. From 2010 to 2016, a total of 637 illegal ivory and rhino products, valued at $6.8 million, were refused entry after individuals attempted to bring them into the United States via Massachusetts entry points. Although these items were discovered, an untold number of contraband items have surely slipped through. As long as trade in ivory and rhino horn remains legal within the state, poached ivory and rhino horn, masquerading as legal versions of those items, can be laundered more easily. Outlawing the sale of ivory and rhino horn in Massachusetts would be a meaningful step toward saving elephants and rhinos.
What You Can Do
Please call your state representative's office to stress the importance of this legislation and encourage his/her support. You can find the phone number here.
Here is a sample script you can follow:
"I am a constituent, and I support S. 2575 because ending the trade of ivory and rhinoceros horn in Massachusetts is an important step toward ending the illegal trafficking of these wildlife products. Please do everything you can to encourage the House Committee on Ways and Means to pass this bill."
After you call, please send a follow-up email.
Share our "Dear Humanitarian" eAlert with family, friends, and co-workers in Massachusetts, and encourage them to contact their state representatives, too. Thank you for all you do for animals!
Sincerely,
Cathy Liss
President
P.S. Follow us on Facebook, Twitter, and Instagram for other important animal protection actions and news.
Photo from Flickr by Jon Mountjoy