Action
None needed at this time.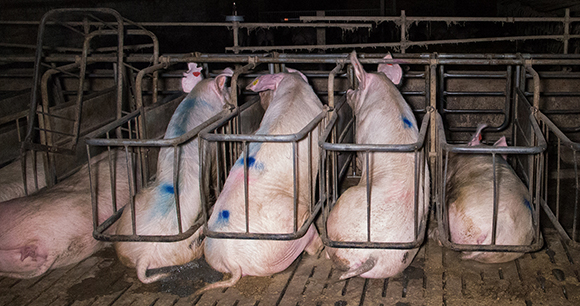 Dear Humanitarian,
Congress must pass a farm bill this year to reauthorize a variety of programs on which the agriculture sector heavily depends. The bill is currently being negotiated. As in the past, we are working to include provisions that strengthen animal welfare and exclude measures that would weaken protections for animals.
AWI strongly opposes two measures that may be folded into the farm bill: the No Regulation Without Representation Act (H.R. 2887), introduced by Rep. Jim Sensenbrenner (R-WI), and the Protect Interstate Commerce Act (H.R. 3599/H.R. 4879), introduced by Rep. Steve King (R-IA). These bills would limit states' authority to set standards for animal welfare within their own borders while nullifying the progress that has already been made in many states to better protect farm animals from cruelty. Moreover, these bills are so broadly worded that they could adversely affect not only animal welfare, but also food safety, worker protections, environmental quality, and consumer laws.
The bills would, for instance, invalidate California's laws prohibiting the sale of foie gras and eggs from hens kept in extremely small, crowded battery cages. They could also interfere with state restrictions on gestation crates for pigs, tail-docking of cattle, horse slaughter, puppy mills, genetically modified products, diseased livestock, and more.
What You Can Do
Language similar to H.R. 3599/ H.R. 4879 was included in the House version of the 2014 farm bill, so we know it may show up again. Constituent opposition aided in getting the language removed from the final bill, so there is no doubt about the power of your voice. Please ask your US representative to oppose H.R. 2887, H.R. 3599, and H.R. 4879.
Be sure to share our "Dear Humanitarian" eAlert with family, friends, and co-workers and encourage them to write, too! As always, thank you for taking action on behalf of the animals.
Sincerely,
Cathy Liss
President
P.S. Follow us on Facebook and Twitter for updates on the action above and other important animal protection news.