Action
None needed at this time.
Update
The comment period on the Chicago Zoological Society's import permit application ended on May 19. We are awaiting a final decision from the agency.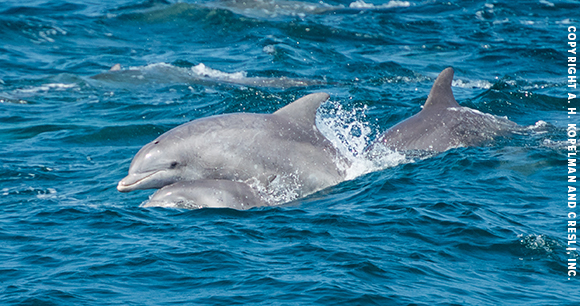 Photo Copyright A. H. Kopelman and CRESLI, Inc.
Updated on April 22, 2019
Dear Humanitarian,
Due to comments from engaged citizens like you, the National Marine Fisheries Service (NMFS) is providing an additional 30 days of public input to an application it received from the Chicago Zoological Society (CZS) for a permit to import captive-born bottlenose dolphins from a facility in Bermuda for public display. The application originally stated that up to three dolphins would go either to the CZS's Brookfield Zoo or to Coral World Ocean Park, a facility under different ownership in St. Thomas, US Virgin Islands. The application now states that, "tentatively," two dolphins will go directly to Coral World, with Brookfield Zoo as an "alternative destination." (The possibility remains that a third dolphin will be imported later.)
AWI believes strongly that NMFS must not issue this permit. Coral World is not a suitable home for any dolphin. The facility is located in Water Bay, a body of water so polluted that in 2018 it was deemed unsafe for human swimming 40 percent of the year. Living full-time in such an environment would have unknown health and welfare consequences for these dolphins.
Brookfield Zoo, the alternative destination, is an indoor facility—which creates other problems for dolphins who have spent their lives thus far outdoors in a sea pen in Bermuda. We expect the stress they would endure if moved to a concrete tank now would be considerable.
The transfer of dolphins for the purpose of public display is a serious issue, even for captive-born animals. It is deeply concerning that NMFS would consider a permit application to such an unsuitable facility when it has the responsibility to protect the welfare of these dolphins. Dolphins do not belong in captivity, certainly not in polluted sea pens. The most protective thing NMFS can do is to keep the United States out of the international live dolphin trade altogether.
Sincerely,
Cathy Liss
President
P.S. Follow us on Facebook, Twitter, and Instagram for other important animal protection actions and news.