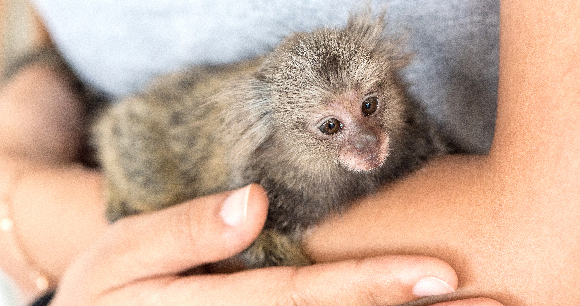 Photo by Kenzaza
Dear Humanitarian,
It's time to put an end to the inhumane and dangerous interstate pet primate trade. The Captive Primate Safety Act (H.R. 1776), introduced by Representatives Earl Blumenauer (D-OR) and Brian Fitzpatrick (R-PA), would do just that.
It is illegal to import primates into the United States for the pet trade, but licensed and unlicensed breeders within the US provide a continuous supply of baby primates to meet the insatiable demand. The internet is rife with advertisements for primates for sale, and these dealers ship them to buyers around the country. Often for less than the cost of a purebred dog, a person can buy virtually any species of monkey or ape, but buyers rarely understand the truth about owning a captive primate pet. The total number of pet primates is unknown, but most estimates suggest there are tens of thousands. These animals often suffer enormously in captivity—almost all are kept in relative isolation, in conditions detrimental to their health and well-being.
Pet primates suffer enormously in captivity and pose a serious threat to public health and safety. Since 1990, approximately 300 people have reported being injured by primates kept by private individuals. Additionally, nonhuman primates can easily transmit a wide range of viral, bacterial, parasitic, and fungal diseases to humans.
What You Can Do
Please urge your US representative to cosponsor the Captive Primate Safety Act.
Share our eAlert with family, friends, and co-workers, and encourage them contact their representative, too. Thank you for all you do for animals!
Sincerely,
Cathy Liss
President
P.S. Follow us on Facebook, Twitter, and Instagram for other important animal protection actions and news.