Action
None needed at this time.
Update
The Pet and Women Safety (PAWS) Act, S. 322, led by Sen. Gary Peters (D-MI) and former Sen. Dean Heller (R-NV), was incorporated into the 2018 Farm Bill, which was signed into law on December 20. (The House companion bill, H.R. 909, was introduced by Rep. Katherine Clark (D-MA) and former Rep. Ileana Ros-Lehtinen.)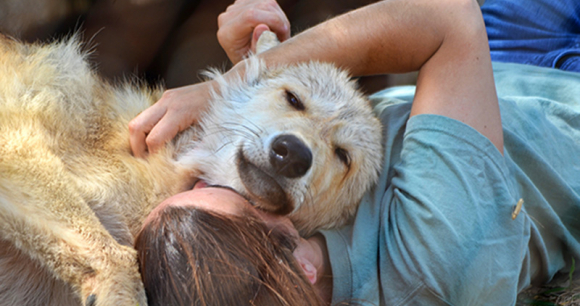 Dear Humanitarian,
October is Domestic Violence Awareness Month. There is a strong relationship between domestic violence and animal abuse, and companion animals play an important role in the lives of women and families in crisis. This is a good time to remind your US senators to cosponsor the Pet and Women Safety (PAWS) Act, S. 322.
Victims of domestic violence fear not only for their own safety, but also for that of their companion animals. Having no safe place for their pets prevents many victims from leaving their abusers. The PAWS Act would help remove that roadblock.
When there is violence in the home, it can be directed at everyone—spouses or partners, children, elderly family members, and companion animals. Abusers are well aware of the bond between their victims and their pets, and they exploit that bond to frighten, control, manipulate, and even "punish" their human victims. A number of surveys over the years have revealed the grim statistics:
Up to 48 percent of battered women indicated they had delayed leaving a dangerous situation out of concern for their companion animals' safety.
Between 49 percent and 86 percent reported that their pets had been threatened, harmed, or killed by their partners.
85 percent of domestic violence shelters indicated that women coming to their facilities spoke of incidents of pet abuse.
The PAWS Act would help programs provide shelter and housing assistance for the companion animals of victims of domestic violence. It would also take the crucial step of including pets in federal law pertaining to interstate stalking, protection order violations, and restitution, and urge states to allow pets to be included under protection orders (as 33 states, the District of Columbia, and Puerto Rico have already done).
Clearly, the better able shelters and other service providers are to assist domestic violence survivors with finding a safe place for their companion animals, the better able they will be to bring everyone to safety. The PAWS Act would greatly increase their capacity to meet these critical needs.
What You Can Do
Please ask your US senators to cosponsor S. 322 so that resources will be available to help domestic violence survivors find safety with their companion animals. If they have already cosponsored, you'll be able to send a thank you email.
Please be sure to share our Dear Humanitarian alert with family, friends, and co-workers and encourage them to write, too! As always, thank you for taking action on behalf of the animals.
Sincerely,
Nancy Blaney
Director, Government Affairs
P.S. Follow us on Facebook and Twitter for updates on the action above and other important animal protection news.