Update
June 22, 2018: The first endangered fin whale of the season has just been killed by the Hvalur whaling company, out of a quota of 238 whales. Please take action, and ask Iceland's government to stop whaling.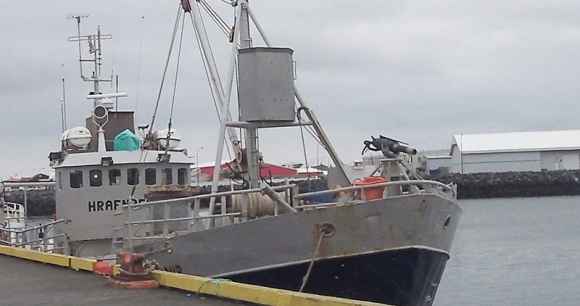 Dear Humanitarian,
Since the whaling season began in May of this year, Icelandic whalers have killed more than 120 endangered fin whales and six minke whales. Despite the International Whaling Commission (IWC) moratorium on commercial whaling, Iceland's whalers have cruelly killed these majestic animals to sell minke whale meat to tourists in Icelandic restaurants and ship fin whale products to Japan, some of which is being used to make dog treats. Iceland's slaughter of these whales and sale of their meat not only defies the IWC moratorium but also the Convention on International Trade in Endangered Species of Wild Fauna and Flora (CITES) ban on international trade in fin whale products. The Hvalur fin whaling company has announced that it also plans to use fin whale meat blubber and bones to create a variety of supposed health products.
Commercial whaling is an inherently inhumane business that has yielded no real benefit to Iceland's economy. In contrast, more than 354,000 tourists went whale watching in Iceland last year, bringing in more than $28 million to the country's economy. Responsible whale tourism is the only justifiable "use" of whales, and it is time for Icelandic whaling harpoons to be set aside.
What You Can Do
Please write to Geir Haarde, Iceland's ambassador to the United States, to let him know that you are opposed to his country continuing to allow the killing of minke and fin whales. Urge the government to support responsible whale watching instead of the cruel and unnecessary whaling industry. You can send a politely worded letter to the ambassador via AWI's Compassion Index by clicking here.
Please share our "Dear Humanitarian" eAlert with family, friends and co-workers, and encourage them to write a letter, too.
As always, thank you very much for your help!
Sincerely,
Susan Millward
Director, Marine Wildlife Program
P.S. Follow us on Facebook and Twitter for updates on the action above and other important animal protection news.