Action
None needed at this time.
Update
Fortunately, by the close of the 115th Congress, neither chamber had voted on the horribly misnamed HELP for Wildlife Act (S. 1514). AWI will be working diligently to thwart any similar attacks on wolves in the 116th Congress.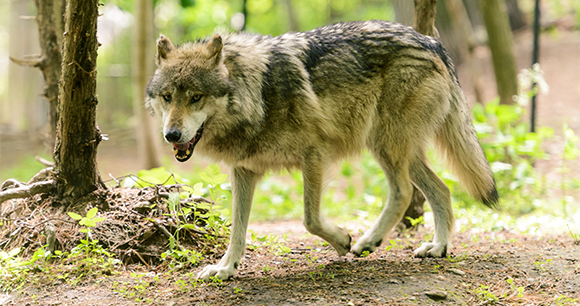 Dear Humanitarian,
The attacks on America's iconic wildlife keep coming. Last Thursday, Senator Barrasso (R-WY), along with Senators Boozman (R-AR), Capito (R-WV),  Cardin (D-MD), Baldwin (D-WI), and Klobuchar (D-MN), introduced a far-reaching bill that directs the Secretary of the Interior to turn over management of wolves to the state governments of Minnesota, Michigan, and Wisconsin, effectively stripping wolves of federal protections and allowing for aggressive hunting and trapping of them in these three states.
Shockingly, this is not even the worst part of this "sportsmen's bill." Not only does S. 1514 allow for potential open seasons on Great Lakes wolves, it also ensures that the rules removing federal protections in these three states, plus Wyoming, can never be challenged in court. One of the most fundamental tenets of the Endangered Species Act is the "citizen suit provision," which allows for challenges to the government's decisions about species management. Taking away this option for gray wolf management eliminates a crucial, democratic tool that is guaranteed by one of our bedrock conservation laws and sets the stage for similar assaults in the future.
Furthermore, S. 1514 would prevent the regulation of lead fishing equipment under the Toxic Substances Control Act. Years of research have shown that the presence of lead in the environment poses an ongoing threat to the health of the general public and wildlife, including threatened and endangered species. It's irresponsible to prevent the regulation of such a toxic substance, especially when so many viable alternatives to lead gear are readily available.