Action
None needed at this time.
Update
Fortunately, the SEA Act (H.R. 3133) and the SECURE American Energy Act (H.R. 4239) did not become law. AWI will be working diligently to thwart the passage of any similar legislation in the 116th Congress.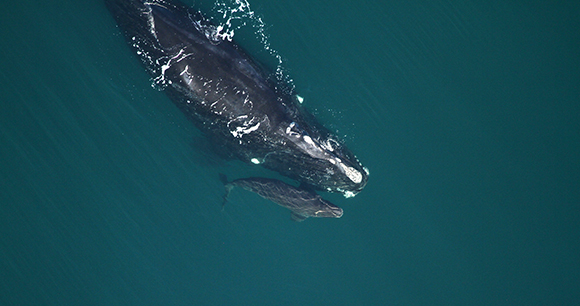 Right Whale - Photo from Florida Fish and Wildlife Conservation Commission
Dear Humanitarian,
The attacks continue on the Marine Mammal Protection Act (MMPA), the nation's premier legislation protecting marine mammals from harassment, capture, injury, or killing. Thanks to the MMPA, a number of marine mammal species that were suffering heavy losses or even facing extinction 46 years ago—including northern elephant seals, gray whales, and manatees—have rebounded to healthier population levels.
These gains are in jeopardy of being reversed by current legislation in the House of Representatives: H.R. 3133, the "SEA Act of 2017," and H.R. 4239, the "SECURE American Energy Act." Both bills prioritize environmentally threatening industry activities over much-needed protections for marine mammals.
H.R. 3133 is a devastating bill that would gut core provisions of the MMPA that limit harm to marine mammals due to human activities. These changes could make hundreds of thousands, even millions, of marine mammals in all US waters more vulnerable to harm from human activities—oil and gas exploration and drilling, in particular. It would also create dangerous gaps in Endangered Species Act protections, putting vulnerable marine mammal species at further risk.
Written to promote oil and gas drilling on public lands and offshore, H.R. 4239 represents a grave threat to marine mammals and birds. Section 110 of this bill mirrors the provisions of H.R. 3133. It would remove essential elements of the MMPA that limit harm to marine mammals from human activities. Furthermore, Section 110 creates an accelerated and rigid timeline for government scientists to review exploration and drilling permit applications, which does not allow sufficient time to properly assess the likely effects of any requested activity on marine mammals.
Other language transfers permitting authority from the Department of Commerce to the Department of the Interior, which lacks the experience and expertise to monitor threats to most marine mammals and has been overzealous in accommodating the oil and gas industry regardless of the implications to the ocean environment.
H.R. 4239 is also bad news for birds. It eviscerates the Migratory Bird Treaty Act, the nation's strongest bird conservation law, by absolving oil companies and other industries of any fault should bird deaths result from activities such as oil spills. In the recent past, such spills have caused the deaths of untold numbers of birds and other wildlife, as well as severe habitat damage.
Sincerely,
Cathy Liss
President
P.S. Follow us on Facebook, Twitter, and Instagram for other important animal protection actions and news.