Action
None needed at this time.
Update
SB 313 passed the California Senate on 5/21/19, and will soon move to the House.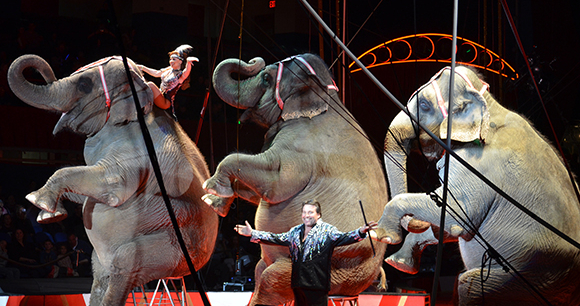 Photo from Flickr by Tim Evanson
Dear Humanitarian,
The California Senate Committee on Natural Resources and Water has scheduled a hearing on the Circus Cruelty Prevention Act (SB 313), a bill to prohibit the use of wild or exotic animals in circuses. The hearing will be on April 9, and committee members need to hear from you!
California already has a law banning bullhooks (poles with sharp hooks at the end used to punish and control elephants). SB 313 goes much further by protecting not just elephants but also big cats, primates, seals, bears, camels, and many other exotic animals who are routinely used for entertainment. Unlike humans, animals do not choose to perform, and the proximity of wild animals to people at these shows also presents a serious threat to public safety.
Increasingly, the shifting tide of public opinion has prompted action by local governments to put an end to this archaic and outdated practice. To date, five states and more than 135 municipalities have passed legislation to address the cruel treatment of circus animals or to ban animal acts entirely, and many other localities are considering similar measures.
What You Can Do
Please urge the members of the Senate Committee on Natural Resources and Water to support SB 313.
Share our eAlert with family, friends, and co-workers in California, and encourage them to contact the committee members, too. Thank you for all you do for animals!
Sincerely,
Cathy Liss
President
P.S. Follow us on Facebook, Twitter, and Instagram for other important animal protection actions and news.