Action
None needed at this time.
Update
Great news! The signature gathering period has ended and Prevent Cruelty California has reached the goal of 600,000 signatures needed to qualify the measure for a vote on Election Day. Thanks to all who helped gather signatures and spread the word!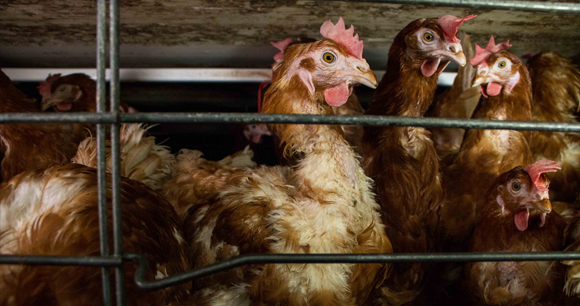 Dear Humanitarian,
Currently in the United States, many farm animals are confined in cages so small they can barely move. Essentially, their whole lives are spent under inhumane conditions, as they endure constant deprivation. Right now in California, there's a groundbreaking effort underway to change this bleak reality for farm animals. By joining this effort, you can help improve their quality of life.
Prevent Cruelty California is a coalition of organizations, including AWI, working to put a measure on the 2018 ballot that would end extreme confinement of farm animals in the state. It would strengthen California's current anti-confinement laws and ensure that pork, veal, and eggs produced and sold in the state come from animals raised in environments where they can move freely.
This would be the single largest advancement in farm animal welfare that we've seen yet, and that is exactly why we need your help. To make sure this initiative reaches the ballot, we need to gather thousands of signatures from California citizens. We hope you will join us in making this crucial improvement in farm animal welfare by signing up to volunteer with Prevent Cruelty California to gather signatures. You can commit as much or as little time as you wish; even if you're only able to gather a few signatures, you would still be helping farm animals immensely.
Sincerely,
Cathy Liss
President
P.S. Follow us on Facebook, Twitter, and Instagram for other important animal protection actions and news.