Action
None needed at this time.
Update
We thank Reps. Jeff Denham (R-CA) and Walter Jones (R-NC), former Rep. Nikki Tsongas (D-MA), and Sen. Richard Blumenthal (D-CT) for introducing the Big Cat Public Safety Act (BCPSA), H.R. 1818/S. 2990. AWI is working to ensure that the BCPSA is reintroduced in the 116th Congress.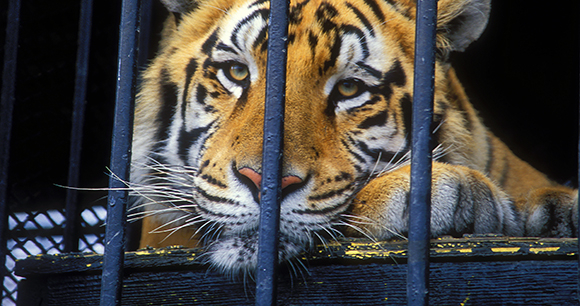 Dear Humanitarian,
An estimated 10,000 to 20,000 big cats are currently owned as pets or are confined to substandard roadside zoos around the United States. Because many jurisdictions don't even require registration of exotic animals, exact numbers are a mystery--nobody knows exactly how many lions, leopards, and other big cats are being kept in private hands, or where they are. This is a crisis for both animal welfare and public safety, and an enormous burden on law enforcement and sanctuaries when private owners lose control of these dangerous and unpredictable wild animals.
Fortunately, there is legislation that would help remedy this problem. The Big Cat Public Safety Act (H.R. 1818 in the House and newly reintroduced as S. 2990 in the Senate) would prohibit the breeding and possession of lions, tigers, leopards, cheetahs, jaguars, cougars, or any hybrid of these species in the exotic pet trade and at roadside zoos. It would also restrict direct physical contact between the public and big cats, for the safety of both.