Update
Thank you for supporting AWI's Annual Rally to Save the Vaquita.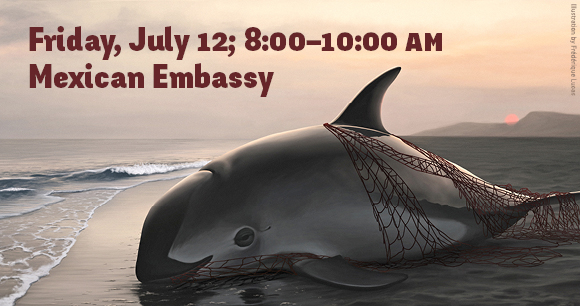 Friday, July 12; 8:00-10:00 AM at the Mexican Embassy
Dear Humanitarian,
The vaquita is the world's smallest and most endangered porpoise, found only in Mexico's Upper Gulf of California. Fewer than 22 individuals are believed to remain, and the species may be extinct by 2021, if not sooner, due to illegal fishing. Once again, AWI has joined forces with other organizations to rally outside the Mexican Embassy in Washington, DC, to bring attention to their plight, as part of the International Save the Vaquita Day 2019 series of events.
Please join us as we continue to challenge the Mexican government to make good on its promise to save the vaquita by (1) imposing a permanent ban on all types of gillnet fishing gear in vaquita habitat and (2) stepping up enforcement.
Where: Mexican Embassy, 1911 Pennsylvania Ave, NW, Washington, DC
When: 8:00-10:00 AM, Friday, July 12
Directions: Click here for the Google Map
Nearest Metro: Farragut West (blue, orange, silver lines)
What to wear: participants will receive a free Save the Vaquita T-shirt (while supplies last)
What to bring: water, sunscreen, enthusiasm! We'll have signs, but feel free to bring your own tasteful sign (nothing rude or overly negative). Please do not block the sidewalk or step into the road during the rally.
RSVP: awi@awionline.org or on Facebook or Eventbrite
Please be sure to share our eAlert with family, friends, and co-workers, and encourage them to come out and voice their support for this gentle porpoise. As always, thank you very much for your help!
Background
Gillnet fishing gear is the biggest threat to vaquitas. They often drown after becoming entangled in nets used to catch a variety of seafood, and in illegal gillnets set for totoaba, an endangered fish that is also found only in the Gulf of California. The totoaba's swim bladder is illegally exported to Asia to make soup and for unproven traditional medicine treatments.
In December 2018, a new Mexican administration took office. President Andrés Manuel López Obrador has to date demonstrated a lack of commitment to wildlife conservation, having reduced the 2019 budget for the Mexican wildlife agency, SEMARNAT. A plan proposed by the administration lacks strong regulatory and enforcement measures, and as a result the vaquita is suffering. Illegal fishing continues to kill vaquitas, including within the Vaquita Refuge Area, a supposed no-fishing zone. Mexico must enact regulations to permanently ban all gillnets throughout the full range of vaquita habitat, and ensure effective enforcement of these regulations if there is to be any hope for the porpoise's survival.
A recent population estimate for vaquita published by international scientific experts indicates that fewer than 22 animals remain in the Upper Gulf. At least nine vaquita have been found dead since 2016, with clear signs of having been entangled in fishing gear. Time is running out for the vaquita—extinction is forever, but it can still be avoided, and we need your help to pressure the Mexican government into taking immediate action. Everything that we can do to help save the vaquita will also help all other marine species—sharks, sea turtles, dolphins, and whales—threatened by gillnets in the Upper Gulf of California.
Sincerely,
Cathy Liss
President
P.S. Follow us on Facebook, Twitter, and Instagram for other important animal protection actions and news.
Illustration by Frédérique Lucas