Action
None needed at this time.
Update
The comment period on this permit application closed on July 21, 2017, and the US Department of Agriculture is currently reviewing the comments. We will provide an update when they make a decision.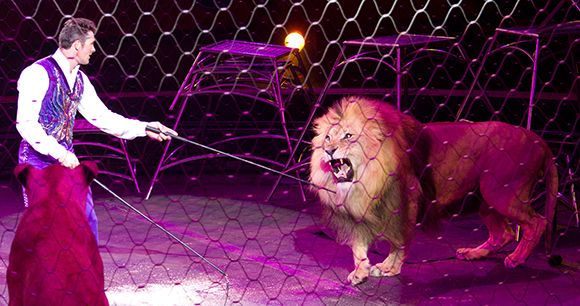 Dear Humanitarian,
For 146 years, Ringling Bros. and Barnum & Bailey Circus exploited animals in its traveling show. Now that Ringling has shut down, the exotic animals who were hauled around the country and forced to perform night after night in front of crowds deserve to be retired to reputable sanctuaries. However, Ringling has other plans—ones that do not take the animals' best interests into account.
In late May, Ringling filed an application for a permit with the US Fish and Wildlife Service to re-export 15 animals to a circus in Germany: 8 tigers, 6 lions, and a leopard. After enduring miserable conditions in cramped transport cars, unnatural and stressful tricks, and punishing training methods, these animals should be sent to bona fide US animal sanctuaries that would gladly accept them.
What You Can Do
Please contact the USFWS and ask it to deny Ringling's request for a permit. You can use AWI's Compassion Index to submit your comments by the June 26 deadline. (Note: your name and comments will be publicly viewable on Regulations.gov. If you prefer to comment anonymously, you can do so by going directly to https://www.regulations.gov/docket?D=FWS-HQ-IA-2017-0031.)
Please be sure to share our "Dear Humanitarian" eAlert with family, friends, and co-workers, and encourage them to submit a comment to the USFWS, too. As always, thank you very much for your help!
Sincerely,
Nancy Blaney
Director, Government Affairs
P.S. Follow us on Facebook and Twitter for updates on the action above and other important animal protection news.