Action
None needed at this time.
Update
Unfortunately, Governor Christie did not sign Nosey's Law before he left office. This means that the bill will need to go through the legislative process again in 2018, but we anticipate that it will do so quickly and that the incoming governor will sign it.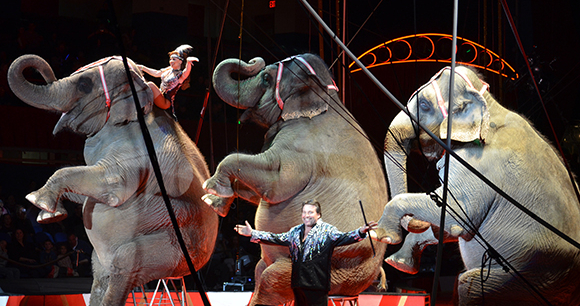 Dear New Jersey Humanitarian,
Huge news: The New Jersey legislature passed Nosey's Law (S. 2508) this week by a near-unanimous vote in the Assembly and a unanimous vote in the Senate. The bill, which would prohibit the use of wild or exotic animals in traveling acts, is now awaiting Governor Christie's signature. Nosey's Law would make New Jersey the first state in the nation to outlaw the cruel use of exotic animals in circuses.
 
Governor Christie has until January 16, his final day in office, to sign the bill. If he vetoes it or does not act on it, the bill dies and the legislature would have to start all over again. It is vitally important that you call and email his office and urge him to sign this groundbreaking legislation.
What You Can Do
You can reach Governor Christie's office at 609-292-6000. Here is a suggested script to follow when you call:
 
"Hi, my name is __ and I am a resident of New Jersey. I urge the governor to sign S. 2508, Nosey's Law. Outlawing animal abuse is very important to me, and cruel circus acts with exotic animals should not be allowed in the state. Thank you."
 
After you make this call, please click here to follow up with an email.
 
Please share this eAlert with friends, family, and coworkers in New Jersey, and encourage them to speak up for circus animals as well. Thank you for all you do for animals.
Sincerely,
Cathy Liss
President
P.S. Follow us on Facebook and Twitter for updates on the action above and other important animal protection news.