Action
None needed at this time.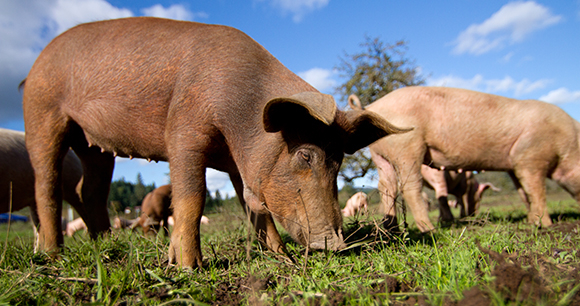 Photo by Mike Suarez
Dear Humanitarian,
Negotiations on the final 2018 Farm Bill formally begin Wednesday, September 5, so this is our last chance to talk to members of Congress about what the end result should look like. As in the past, we have been working with members of Congress to include provisions in the final bill that strengthen animal welfare and exclude measures that would weaken protections for animals.
As a top priority, AWI strongly opposes sections 11701 and 11702 of the House Farm Bill, which were included at the behest of Rep. Steve King (R-IA). These sections, known as the "King amendment," would limit states' authority to set animal welfare standards within their own borders, while also nullifying state laws passed to protect animals from cruelty. The King amendment would, for instance, invalidate restrictions many states have placed on gestation crates for pigs, tail-docking of cattle, horse slaughter, shark finning, and the sale of pets from puppy mills. The King amendment is so unpopular that a bipartisan group of 119 representatives and 32 senators wrote to congressional leadership opposing its inclusion in a final Farm Bill.
AWI also opposes sections of the House Farm Bill that would weaken Endangered Species Act (ESA) protections and absolve industry from having to take responsibility for harming America's wildlife. Specifically, certain sections would exempt some federal agencies from consulting with the US Fish and Wildlife Service—as required under the ESA—on projects that might affect imperiled species. Another section eliminates key oversight and liability for registration of pesticides, which can have deeply harmful impacts on listed species, including pollinators that are crucial for agricultural production.
However, AWI supports language that would make more resources available to help meet the housing needs of domestic violence survivors with pets, language prohibiting the slaughter of dogs and cats for human consumption, and language extending the Animal Welfare Act prohibition on animal fighting to US territories.
Sincerely,
Cathy Liss
President
P.S. Follow us on Facebook, Twitter, and Instagram for other important animal protection actions and news.